Efecto de las Remesas Familiares en la Estructura Productiva de Honduras
Palabras clave:
estructura productiva, remesas, sector transable, sector no transable, enfermedad holandesa
Resumen
El presente documento estudia la relación entre las remesas y la estructura productiva de Honduras. El análisis está fundamentado en la teoría de la enfermedad holandesa, la cual indica que las remesas pueden tener un efecto de redistribución de los recursos entre los bienes transables y no transables. Para examinar la relación entre las variables se utiliza el modelo Autorregresivo con Retardos Distribuidos (ARDL, por sus siglas en inglés), considerando a los sectores agropecuario e industrial como transables y el sector servicios como no transable. Los resultados sugieren que existe una relación significativa de largo plazo entre las remesas y la participación relativa de los sectores productivos dentro de la economía hondureña, siendo negativa para el sector agropecuario y positiva para los sectores industrial y servicios, por lo que la evidencia respecto a la presencia de la enfermedad holandesa no es concluyente.
Citas
Acosta, P. A., Lartey, E. K., & Mandelman, F. S. (2009). Remittances and the Dutch disease. Journal of international economics, 79(1), 102-116. https://doi.org/10.1016/j.jinteco.2009.06.007
Acuña, G. (2011). Flujos migratorios laborales intrarregionales: Situación actual, retos y oportunidades en Centroamérica y República Dominicana (Informe regional). San José, Costa Rica:(OIM, OIT, MTSS, CECC SICA, OCLAD, Red de Observatorios del Mercado Laboral, AECID).
https://www.ilo.org/wcmsp5/groups/public/---americas/---ro-lima/---sro-san_jose/documents/publication/wcms_194005.pdf
Addey, K. A. (2019). A Diagnostic Test for the 'Dutch Disease' in the USA using the ARDL Bounds Testing Technique. Research in Applied Economics, 11(1), 32-46.
https://doi.org/10.5296/rae.v11i1.14074
Amin, S., & Murshed, M. (2017). Remittance, exchange rate and Dutch disease: The case of Bangladesh. International Review of Business Research Papers, 13(2).
https://ssrn.com/abstract=3070057
Álvarez, F. F. (2018). Efecto de las remesas familiares en la transmisión de la política monetaria en Honduras. Documento de Investigación IE/DI-01/2018. Banco Central de Honduras.
https://www.bch.hn/investigaciones_economicas.php
Badeeb, R. A., Lean, H. H., & Clark, J. (2017). The evolution of the natural resource curse thesis: A critical literature survey. Resources Policy, 51, 123-134.
https://doi.org/10.1016/j.resourpol.2016.10.015
Banco Mundial (Octubre 2019). Datos anuales de remesas (entradas). https://www.worldbank.org/en/topic/labormarkets/brief/migration-and-remittances
Battistón, D. E. (2010). Remesas y migración internacional en América Latina: simulación de los efectos en la pobreza y la desigualdad.
https://doi.org/10.35537/10915/3417
BCH (2007) a. El rostro de las remesas: su impacto y sostenibilidad.
https://www.bch.hn/otras_publicaciones.php
BCH (2007) b. Consideraciones sobre las remesas familiares enviadas a Honduras.
https://www.bch.hn/otras_publicaciones.php
BCH (Agosto 2019). Resultados Encuesta Semestral de Remesas Familiares.
https://www.bch.hn/estadisticas-y-publicaciones-economicas/sector-externo/informes-y-publicaciones/resultado-de-encuesta-semestral-de-remesas-familiares
Cerda, R., Barros, A. D., & Navarro, A. L. (2003). Fundamentos del tipo de cambio real en Chile. Pontificia Universidad Católica de Chile, Instituto de Economía. Documento de trabajo 244.
https://www.researchgate.net/publication/5128691_Fundamentos_del_Tipo_de_Cambio_Real_en_Chile
Cervantes J. A., & Uribe A. P. (2017). Migración internacional, remesas e inclusión financiera El caso de Honduras. Centro de Estudios Monetarios Latinoamericanos (CEMLA), México.
https://www.cemla.org/PDF/remesaseinclusion/2017-04-migracion-remesas-inclusion-honduras.pdf
Chowdhury, M. B., & Rabbi, F. (2014). Workers' remittances and Dutch disease in Bangladesh. The Journal of International Trade & Economic Development, 23(4), 455-475.
https://doi.org/10.1080/09638199.2012.738240
De, S., Islamaj, E., Kose, M. A., & Reza Yousefi, S. (2016). Remittances over the business cycle: Theory and evidence. Economic Notes: Review of Banking, Finance and Monetary Economics, 48(3), e12143.
https://www.knomad.org/sites/default/files/2017-07/KNOMAD%20WP%2011%20Remittances%20over%20the%20Business%20Cycle.pdf
Durdu, C. B. & Sayan, S. (2008). Emerging Market Business Cycles with Remittance Fluctuations.
http://dx.doi.org/10.2139/ssrn.1292433
Dzansi, J. (2013). Do remittance inflows promote manufacturing growth? The annals of regional science, 51(1), 89-111.
https://doi.org/10.1007/s00168-012-0529-x
Edsel, Jr., B. (2010). Do international remittances cause Dutch disease? Ateneo de Manila University. Munich Personal RePEc Archive Paper No. 23022.
https://mpra.ub.uni-muenchen.de/23022/
Estadísticas BCH (2020). Balanza de pagos trimestral y transferencias corrientes.
https://www.bch.hn/transferencias_corrientes.php
https://www.bch.hn/balanza_pagoshon.php
Giuliano, P., & Ruiz-Arranz, M. (2009). Remittances, financial development, and growth. Journal of Development Economics, 90(1), 144-152.
https://doi.org/10.1016/j.jdeveco.2008.10.005
Ham, A., & Murillo M. A. (2014). Los patrones de migración en Honduras: Evolución, tendencias regionales e impacto socioeconómico. Revista de Economía y Administración, 11(1). Enero-junio de 2014.
https://biblat.unam.mx/es/revista/revista-de-economia-administracion/articulo/los-patrones-de-migracion-en-honduras-evolucion-tendencias-regionales-e-impacto-socioeconomico
Instituto Nacional de Estadística (2019). Cuadros de mercado laboral, cuadros de problemas de empleo, metodología, Encuesta Permanente de Hogares de Propósitos Múltiples (EPHPM), 2019.
https://www.ine.gob.hn/V3/ephpm/
Keller, L., & Rouse, R. (2016). Remittance Recipients in Honduras: A Socioeconomic Profile. Inter-American Development Bank Group's Multilateral Investment Fund.
https://publications.iadb.org/publications/spanish/document/La-poblaci%C3%B3n-receptora-de-remesas-en-Honduras-Un-an%C3%A1lisis-de-sus-caracter%C3%ADsticas-socioecon%C3%B3micas.pdf
Lartey, E. K., Mandelman, F. S., & Acosta, P. A. (2012). Remittances, exchange rate regimes and the Dutch disease: A panel data analysis. Review of International Economics, 20(2), 377-395.
https://doi.org/10.1111/j.1467-9396.2012.01028.x
Mayoral, F. M., & Proaño, M. B. (2015). El impacto de las remesas en el crecimiento económico de América Latina, 1975-2012. América Latina Hoy, (69), 141-161.
http://dx.doi.org/10.14201/alh201569141161
Paul, B. P., Uddin, M. G. S., & Noman, A. M. (2011). Remittances and output in Bangladesh: an ARDL bounds testing approach to cointegration. International Review of Economics, 58(2), 229-242.
https://doi.org/10.1007/s12232-011-0120-2
Perdomo, R. (1999). Impacto socioeconómico de las remesas: perspectiva global para una orientación productiva de las remesas en Honduras. Comisión Económica para América Latina y el Caribe, CEPAL.
https://repositorio.cepal.org/handle/11362/25423
Perez-Saiz, H., Dridi, M. J., Gursoy, T., & Bari, M. (2019). The impact of remittances on economic activity: the importance of sectoral linkages. International Monetary Fund, WP/19/175.
https://www.imf.org/en/Publications/WP/Issues/2019/08/16/The-Impact-of-Remittances-on-Economic-Activity-The-Importance-of-Sectoral-Linkages-47091
Pesaran, M. H., Shin, Y., & Smith, R. J. (2001). Bounds testing approaches to the analysis of level relationships. Journal of applied econometrics, 16(3), 289-326.
https://doi.org/10.1002/jae.616
Puerta, R. (2003). La remesa de los emigrantes: un factor decisivo para impulsar políticas de desarrollo social en Honduras. Cuadernos de administración, 19(30), 49-82.
https://dialnet.unirioja.es/servlet/articulo?codigo=5006398
Rajan, R. G., & Subramanian, A. (2005). What undermines aid´s impact on growth? International Monetary Fund, WP/05/126.
https://www.imf.org/en/Publications/WP/Issues/2016/12/31/What-Undermines-Aids-Impact-on-Growth-18380
Torres, F. (1998). Uso productivo de las remesas en El Salvador, Guatemala, Honduras y Nicaragua. Comisión Económica para América Latina y el Caribe (CEPAL).
https://www.cepal.org/es/publicaciones/25341-uso-productivo-remesas-salvador-guatemala-honduras-nicaragua
Torres, F. (2000). Uso productivo de las remesas familiares y comunitarias en Centroamérica. Comisión Económica para América Latina y el Caribe (CEPAL).
https://repositorio.cepal.org/bitstream/handle/11362/25427/1/LCmexL420_es.pdf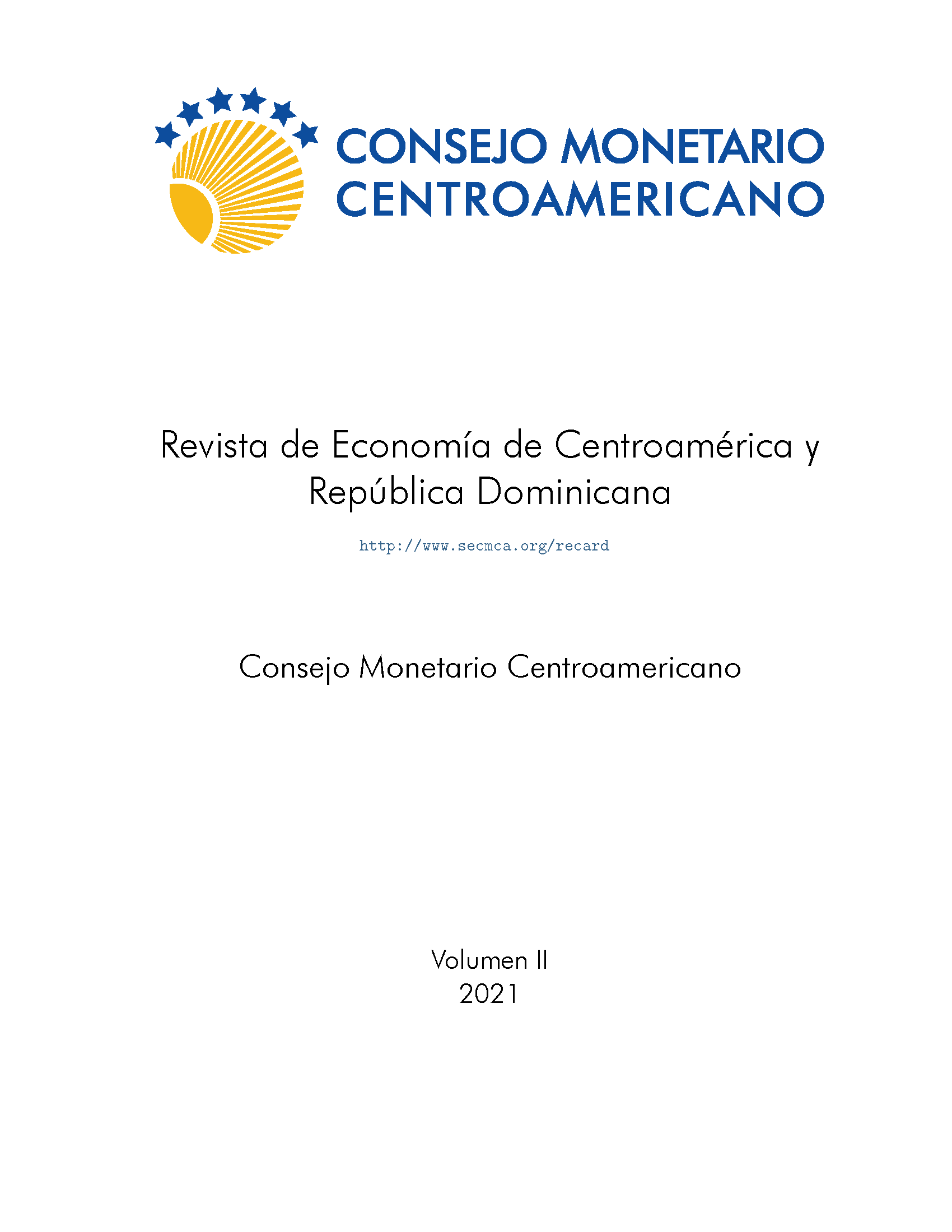 Descargas
Sección
Artículo de Investigación
Licencia
Derechos de autor 2021 Marjorie Julissa Delgado Martínez
Esta obra está bajo una licencia internacional Creative Commons Atribución-NoComercial-SinDerivadas 4.0.
Los documentos que se publican en RECARD están licenciados por Creative Commons 3.0 (CC): Atribución – sin obras derivadas – No comercial: El material creado por usted puede ser distribuido, copiado y exhibido por terceros siempre que se le atribuya el crédito al autor. No se puede obtener ningún beneficio económico. No se pueden realizar obras derivadas.
 
RECARD permite que los lectores puedan, de forma gratuita, descargar, almacenar, copiar y distribuir la versión final aprobada y publicada del documento, siempre y cuando se realice sin fines comerciales, no se generen obras derivadas y se mencione la fuente y autoría de la obra. RECARD permite a los autores archivar los documentos publicados en repositorios y sitios web.